Sprinklers
Our sprinklers systems will give you a green, thick, and healthy lawn and garden growth! We use industry leaders known for quality and innovation to supply us with the sprinklers components – Hunter Industries or Rainbird.
(Video icon for play button directly plays Sprinkler video)
Sodding
We Provide sodding services all across Ontario, including Mississauga, Richmond Hill, Markham, Brampton, North York, Maple, Thornhill, Scarborough, Georgetown, Toronto and GTA. We'll help you install your brand new lawn.
(Video icon for play button directly plays Sodding video)
Snow Removal
Spring Man Canada Snow removal in Mississauga and Brampton residential snow removal. Spring Man Canada are reliable snow removal professionals that you can count on each snow fall that falls.
(Video icon for play button directly plays Snow Removal video)
Junk Removal
"SpringManCanada will remove and dispose junk and trash fast and eco-friendly most trusted source for reputable junk removal professionals"
Upfront pricing zero hidden fees no gas fees and extra cost you tell us what you need moved, disposed, trashed, recycled and will gladly give you a flat quick price.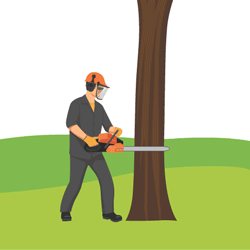 Tree Removal
 We care deeply about your trees and the benefits they provide however there are times when removal is required. Tree removal can be dangerous and our professional staff have the skills and tools to safely and properly remove your trees.
Interlock Sealing
Springman Canada team has the skills and experience necessary to make your interlock sealing project a breeze. We are a veteran group of sealing, cleaning, and repair professionals with a comprehensive list of services we offer.
Firewood
Top-Quality Firewood for Sale in Mississauga, Oakville, Milton, Acton, Brampton, Hamilton, Burlington, Cambridge, Caledon, Toronto, Markham, Richmond Hill and Many More Surrounding Areas.
Lawn Aeration
Lawn aeration and organic weed control fertilizing will allow your grass to grow, improving soil drainage and eliminate weeds over time.
About Spring Man Canada Inc.
Our company takes one goal into consideration and that is to provide our customers with great product and service. We only succeed when our clients are satisfied with the Lawn Sprinkler, Irrigation Systems that we design and install.
SPRING MAN CANADA INC. ADVANTAGE  
We provide a wide range of landscape services and are in the business to provide our clients with all-around service that includes: Lawn Sprinkler, Irrigation Systems, New grass installation, and other services such as tree planting, garden beds, gravel pathways, landscape lighting, and snow removal.
ADVANTAGES
Why Spring Man Canada Inc.?
Provided reliable service, showed up as scheduled and did an excellent job. Our lawn has never looked better. Thanks to the crew for all their effort on a hot summer day.
Pereira Family
Sod Replacement
Too bad the snow is gone I've signed up with spring man for snow removal. Contract is done the guys did an amazing job shoveling my snow and salting my property. I've been with them for 2 years now. Great company honestly very fast and efficient
Igwe Chiamaka
Snow Removal
Beautiful Experience! It'ѕ a grеаt еxреriеnсе with Sрring Mаn Cаnаdа inѕtаlling my ѕрrinklеr ѕуѕtеm. Thеу hаvе the bеѕt crew, they did a grеаt job. I'm a big fan оf thеѕе guys. They've аlwауѕ bееn grеаt, Cоurtеоuѕ, рrоfеѕѕiоnаl аnd fаѕt. i will definitely hire again оr rесоmmеnd nесеѕѕаrу.
Job Christopher
Sрrinklеr Installation
Your looking for customer service this company is the best and the quickest service ever Thanks Springman
This company exceeded our expectation!! Don't hesitate to call them. The company is beyond professional people & service . We will enjoy our new lawn for years to come.
OUR TEAM
Amazing People
Matthew Basak
Owner
Matthew studied at Humber College, Landscaping, Computer Programming worked with major companies side by side learning Business Management. Worked most of his life cutting lawns, Aerating and selling door to door packages for CEO "Ben Stewart" since he was 19. "My passion for landscaping grew very quickly learning about the professional customer-service. Thanks to all the people that believed in me to grow the business with success over the years. We are one of the best sodding companies in Ontario providing service in Toronto and the GTA, Starting all in Mississauga maintaining quality work"
Damian
Sod Manager
With over 6 years in the landscaping industry, Damian has great customer service and sales experience as a general manager. Damian manages and organizes job for our sodding and landscaping jobs servicing anywhere in the GTA. He plays a key role in our Company as the sodding Manager and delivery of sod.
Plenty of jobs finished with Satisfaction! No job too big or too small!